Stake Weekly Bonus
Although many betting websites offer the same gaming experience to the customers, places like Stake prove that some brands are different. In addition to its cryptocurrency options and betting categories, there's also a Stake weekly bonus that you can choose from. This is just one of the many available promotions, but people who like playing games will appreciate it.
This article will go over everything about the Stake weekly bonuses. We will see how to get them, what they offer, how long they'll last, and many of her things, so let's begin.
What is a Stake Weekly Bonus?
The Stake Weekly Bonus is an offer available to people who join the VIP program of Stake.com. This social casino bonus will grant them a specific amount of money they can use on different things.
The amount you can get depends on the loyalty level and how much you have wagered in the last 7 days. Since it can be complicated, you can use the VIP level calculate option to check your results.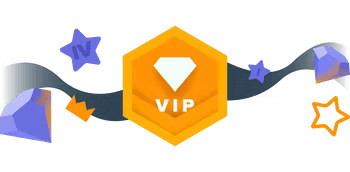 What is a Stake Weekly Raffle?
The Stake Weekly raffle is an exclusive weekly giveaway from this gambling operator that allows people to compete for a $75,000 prize pool. Although there may be changes, there are usually 15 weekly giveaway winners, and the raffle takes place at 2:00 PM GMT on Saturday. Similar to most of the other offers, such as the Monthly bonus, this one is structured in a way that rewards active players. 
How does the Stake Weekly Bonus work?
As mentioned, the Stake weekly boost is an offer you can participate in every week. Once you become eligible to be a part of the raffle, you must wait until Saturday, when Stake will pick the winners. If you are among them, you will receive a prize from the impressive prize pool. Unlike certain other bonuses, this one does not need a promo code, and you don't need to have a VIP rank.
People who want to watch the Stake Weekly giveaway in real time can do that using the official stream. The company will use Google's RNG tool to choose the winners.
Aside from the Weekly Raffle, there are VIP Weekly Bonuses. The only way to access them is by joining the loyalty club. Once that happens, you will receive a perk every week based on the specific criteria mentioned below.
Eligibility and Requirements for the Stake Weekly Bonus
If you are interested in the Weekly Bonus drop from Stake, you must have an account with the iGaming operator and use its services. However, not everyone who likes to play games will be able to participate in the monthly bonuses.
You must wager at least $1000 because this amount will give you one ticket for the raffle. The good thing about this proposal is that there are no limits to the entry numbers, and you can get an offer by wagering on sports or using the casino.
As for the VIP weekly offer, clients will get a bonus based on their activity and level. Therefore, all VIP clients will automatically become a part of the bonus once they join the exclusive group of players.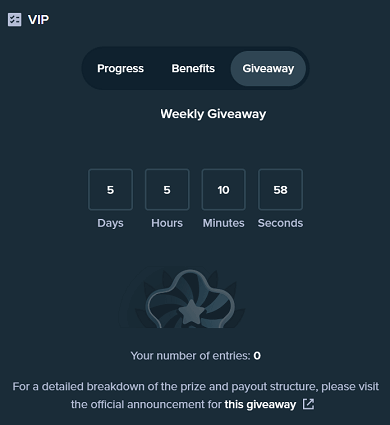 How to Claim the Weekly Bonus on Stake.com
To claim your Weekly Bonus on Stake, you have to do the following:
Register for an account or log in if you have one.
Go to the promotional page and opt into the offer.
Check the available betting categories and start wagering using your own money.
Once you wager $1000, you will receive one entry. 
You do not need to use a specific Stake Weekly Bonus calculator because the operator will let you know if there are any changes to the prize pool. Furthermore, you can check the number of entries by going to the VIP section.
It is important to have an account in good standing with the iGaming operator if you want to participate in the competition. This means you should respect the Terms and Conditions of the casino games, VIP club, and other bonuses you may be using.
The VIP Stake weekly bonus will be given out every Saturday at 12:30 PM GMT. People who meet the requirements will receive a reward.
Making the Most of Your Weekly Bonuses
The fact that you do not need to use any special Weekly Bonus calculation tool doesn't mean you can't do certain things to maximize your experience. Of course, it all starts with the fact that securing more entries will increase your chances of winning. Considering that the bar is high for a single entry at $1000, not that many people will get there, so those who accumulate more have a bigger chance at winning the Weekly Bonus Stake competition.
As for the Weekly Bonus calculated based on your VIP level, people who spend more will get more. Thankfully, Stake knows that reaching the highest VIP ranks is not easy, so it gives an attractive perk even for Bronze players. Remember to check the Telegram group for the Weekly Stake bonus.
Terms and Conditions
Like every other promotion, before you claim Weekly Bonus Stake, you must be aware of the rules. We have covered some of them, such as the minimum amount you need to use and the fact that your account needs to be in good standing. However, there are a few other things you should know:
The weekly boosts are not associated with the VIP club.
Stake's employees are not allowed to participate in this event and win bonus amounts.
It's not advisable to wager between 2 and 3 PM GMT on Saturdays if you want to compete for the Stake Weekly boost amount because your bets won't count.
Stake Weekly Bonus Calculator
The Stake Weekly Bonus Calculator is a tool that helps you determine the reward you will get. However, you can use this tool only for the weekly bonus that's based on your VIP level. Simply add the VIP rank, followed by how much you have wagered in the last week.
Conclusion
Unlike the deposit bonus from Stake, where you need to add funds to get a given offer, you can take part in this competition simply by wagering on what you like. The Stake Weekly Bonus is a great way to put your luck to the test. No wonder VIP players and people with a new account decide to try it.
Stake.com Weekly Bonus FAQs
What is the Stake Weekly Bonus?
The Stake Weekly Bonus is an offer to all VIP who reach at least Bronze. There's also a Weekly Raffle available to all of Stake's clients, including those who are not VIP.
Do I need to opt-in to receive the Stake Weekly Bonus?
No, you do not need to opt in to take part in the Stake cash weekly bonus.
Are there any wagering requirements associated with the Stake Weekly Bonus?
No, there are no rollover requirements, meaning no one will track whether you've wagered the amount after you got it.
What happens if I miss claiming my weekly bonus for one week?
The Weekly boost will expire in 4 weeks, so you will have time to get it.
Is the Stake Weekly Bonus available to all players, or are there eligibility criteria?
The $75K Weekly Raffle from Stake is available to everyone. However, there's also a Weekly Bonus for VIP players, only available to users who join the program.
Do I need a code to claim the Stake Weekly Bonus?
No, you don't need any code to use this offer from the promotions section.